Rational Funk Now Live on Youtube!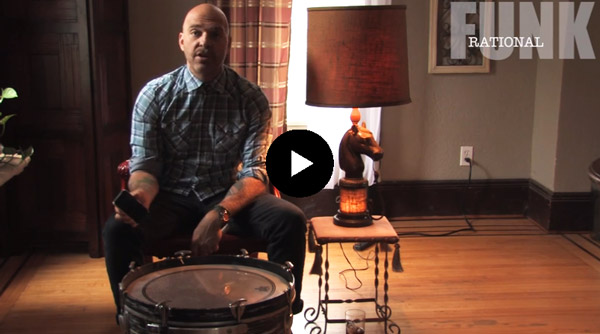 Dave's new instructional video series RATIONAL FUNK WITH DAVE KING is now live on YouTube. Check it out →
Latest Blog Post
JULY 2015
HAPPY JULY YOU KIND HEARTS STUFFED INSIDE THE INTERNET CABLES OF INTERGALACTIC SPYHOUSES!
i am late with my july news and i know how all 7 of you are hungry for it.
the bad plus joshua redman project finished our u.s. through canada run with a really nice show in montreal. now we are in europe doing a 3 and a half week trek across 12 countries i am getting old i think......you???
READ MORE →
The Bad Plus on tour...
JUNE
10 New York, NY -- Highline Ballroom**
11 Albany, NY -- Albany Riverfront Park**
12 Washington, DC -- The Hamilton**
13 Philadelphia, PA -- World Cafe Live**
18 Seattle, WA -- Dimitriou's Jazz Alley**
19 Seattle, WA -- Dimitriou's Jazz Alley**
20 Seattle, WA -- Dimitriou's Jazz Alley**
21 Seattle, WA -- Dimitriou's Jazz Alley**
23 Victoria, BC -- The Victoria Jazz Society**
24 Vancouver, BC -- The Vogue Theatre**
25 Saskatoon, Saskatchewan -- Sasktel Saskatchewan Jazz Festival**
26 Edmonton, Alberta -- Francis Winspear Centre for Music**
28 Montreal, QC -- Maisonneuve Theatre De La Place Des Arts**

July 2015
THE BAD PLUS JOSHUA REDMAN
04 East Sussex, GBR -- Love Supreme Jazz Festival**
04 Penedes, ESP -- Banco Sabadell Vijazz Penedes**
05 Paris, FRA -- Esplanade de la Defense**
06 Copenhagen, DNK -- Kulturhuset Islands Brygge**
07 Stuttgart, DEU -- Jazz Open**
08 Mannheim, DEU -- Enjoy Jazz Summer**
10 Istanbul, TUR -- Istanbul Jazz Festival**
11 Rotterdam, NDL -- North Sea Jazz Festival**
13 Umbria, ITA -- Umbria Jazz Festival**
14 Montreux, CHE -- Molde Jazz**
16 Molde, NOR -- Heineken Jazzaldia**
18 Alicante, ESP -- Fijazz Festival**
20 Albinea, ITA -- Villa Arno**
22 Langnau, CHE -- Langnau Jazz Nights**
24 Fano, ITA -- Corte Malatestiana**
25 San Sebastian, ESP -- Jazzaldia**
27 Marciac, FRA -- Chapiteau de Marciac**

September 2015
12 Paris, FRA -- Philharmonie de Paris*
23 Bogota, COL -- Teatro Libre de Chapinero


October 2015
THE BAD PLUS JOSHUA REDMAN
13 Hanover, NH -- Spaulding Auditorium, Dartmouth College**
15 Toronto, CAN -- Massey Hall**
16 Chicago, IL -- Symphony Center**
17 Madison, WI -- Wisconsin Union Theater**
18 Carmel, IN -- The Palladium**
20 Columbus, OH -- Wexner Center for the Arts, Ohio State University**
22 Saratoga Springs, NY -- Zankel Music Center**
23 Saratoga Springs, NY -- Zankel Music Center**
25 Boston, MA -- Berklee Performance Center**




















---